HAWAII COUNTY POLICE DEPARTMENT
TRAFFIC SERVICES SECTION
SERGEANT RANDY K. APELE
PHONE: 961-2305
MAY 21, 2002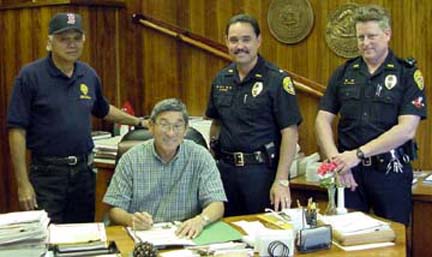 BUCKLE UP AMERICA-Mayor Harry Kim signs a proclamation declaring May 20-27 as "Buckle Up America Week." The proclamation is part of the statewide "Click It or Ticket" campaign, which aims to increase the use of seat belts and child restraint seats. Standing behind the mayor, from left, are Daniel C. Kama, Hawaii County Police Commission member; Major Morton A. Carter, head of the Technical Services Section; and Officer Robert E. Hatton of the Traffic Enforcement Unit.
MEDIA RELEASE
Big Island police have issued a total of 308 citations for seat belt violations since Thursday (May 16, 2002) the beginning of the statewide "Click It or Ticket" campaign, through Saturday.
The federally funded project is aimed at increasing the use of seat belts and child restraint seats throughout Hawaii.
In addition, police officers issued 117 other miscellaneous citations and made two arrests. The arrests, for drunk driving and failure to wear a seat belt, were for the same driver.
During the seat belt campaign, police officers will be manning seat belt checkpoints at stations around the island.
Mayor Harry Kim also signed a proclamation declaring the week of May 20-27, 2002, as "Buckle Up America Week."
The efforts are all part of a media blitz, sponsored by the State Department of Transportation, to encourage motorists to use seatbelts.
State law mandates that all front seat occupants and occupants under 18 years of age, regardless of where they are sitting, must wear seat belts. In addition, children under 4 years of age must be properly restrained in a child restraint.
The fine for failure to comply with the law is $67 if paid before the scheduled court date. If paid on or after the scheduled court date, the fine increases to $92.
Hawaii County's seat belt compliance rate has been estimated at more than 86 percent, according to Sergeant Randy Apele, head of the Traffic Services Section. The Big Island's goal this year is to attain a 90 percent compliance rate, Apele said.
# # #