HAWAII COUNTY POLICE DEPARTMENT
OFFICE OF THE POLICE CHIEF
PHONE: 961-2244
SEPTEMBER 27, 2002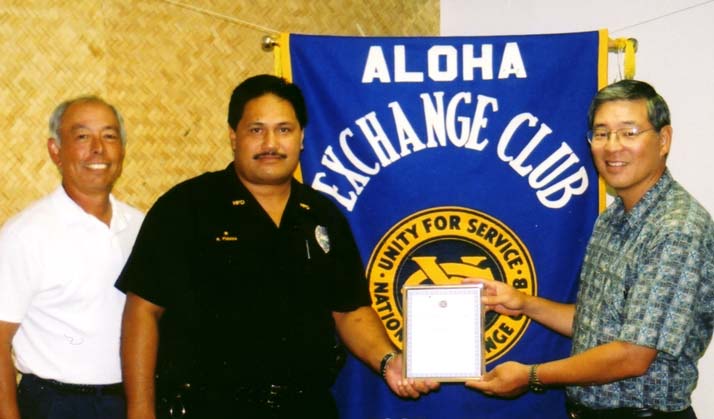 OFFICER OF THE MONTH – Officer Romeo Fuiava of the South Hilo Patrol receives the Officer of the Month award for June from the Aloha Exchange Coub of East Hawaii. Mike Okamoto, club president, presented the award. Looking on is Joey Estrella, club coordinator.
MEDIA RELEASE
The Aloha Exchange Club of East Hawaii has named Officer Romeo Fuiava of the South Hilo Patrol as its Officer of the Month for June 2002.
Fuiava was honored recently for helping save the tenants of a burning building on Keawe Street the night of June 16, 2002, and for arresting a suspect who allegedly started the fire.
At 10:52 p.m. that night, Fuiava was patrolling the Hilo downtown area when he noticed the front door and wall of the building was on fire. Finding the door locked, the officer was able to get the attention of one of the tenants to come down the stairs and unlock the door. Fuiava and fellow officers were then able to help the tenants evacuate the building.
A subsequent investigation determined that the fire had been set deliberately. Officer Fuiava was later able to identify a male suspect who was observed at the scene of the fire. The suspect was charged with first-degree criminal property damage and is currently being held at the Hawaii Community Correctional Center in lieu of $9,000 bail.
# # #