- Hawaii Police Department - http://www.hawaiipolice.com -
Police kick off 'Click It or Ticket' seat belt campaign 05-20-02
MEDIA RELEASE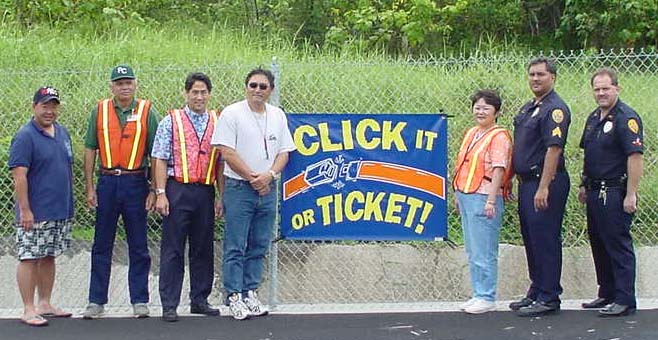 'CLICK IT OR TICKET'-The Hawaii County Police Department and friends kicked off the 'Click It or Ticket' campaign Saturday (May 18, 2002) with a traffic safety checkpoint on Mohouli Street Extension near Kaumana Drive. The campaign is aimed at increasing the use of seat belts and child restraints. State law requires buckling up with seat belts for all front seat occupants and back seat passengers under 18 years of age and with child restraints for all children under 4 years of age. Failure to comply is subject to a fine of $67. Pictured above at the campaign kickoff are, from left, Grant Nishida, representing the Lehua Jaycees; Daniel C. Kama, Hawaii County Police Commission; Cary Ichinose, State Farm Insurance Companies; John Kaizuka, Partners for Safe Keikis; Jan Yokoyama, State Department of Health; Sergeant Randy Apele, head of the Police Department's Traffic Services Section; and Officer Christopher Gali, Traffic Enforcement Unit.
# # #
---
Article printed from Hawaii Police Department: http://www.hawaiipolice.com
URL to article: http://www.hawaiipolice.com/police-kick-off-click-it-or-ticket-seat-belt-campaign-05-20-02
Copyright © 2014 Hawaii Police Department. All rights reserved.