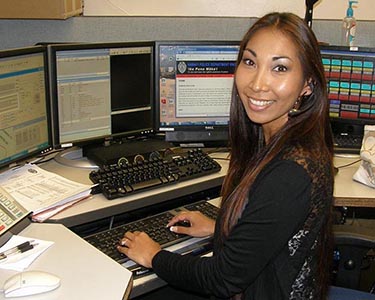 "Hawaiʻi County is an Equal Opportunity Provider and Employer"
The Hawaiʻi County Department of Human Resources periodically recruits applicants for police dispatchers. The next recruit period for Police Radio Dispatch will be in 2022.  

To be notified by email when recruitment opens:
Visit the Hawaiʻi County Job Opportunities page and create an account.
Fill out a Job Interest Card for a Police Radio Dispatcher. Scroll down and click on Police Radio Dispatcher I.
Click "apply" and follow the instructions.
For more information, go to the County of Hawaiʻi Job Opportunities web page.
SALARY for Dispatcher I:
$19.76 Hourly
$3,425 Monthly
$41,100 Annually
DUTIES SUMMARY:
Performs a variety of difficult clerical work in a central police communications operation; receives training in police radio dispatching methods and procedures; and performs other related duties as required.
Special Working Conditions: Twenty-four (24) hours, seven (7) days-a-week operations requiring rotating shift assignments, and weekend and holiday work. Overtime work as required.
EXAMPLES OF DUTIES:
Attends selected courses in police recruit school to gain familiarity with the basic functions and missions of the police department.
Receives formal and on-the-job training in police communications operations to include crime classification and coding, and utilization of radio dispatching equipment under mock as well as actual but controlled conditions.
Provides operator relief to higher level dispatchers under supervision.
Receives emergency and non emergency telephone complaints and other requests for police assistance from the public, elicits and summarizes necessary facts, determines preliminary classification of offense, and forwards pertinent information to dispatchers.
Receives case data from reporting police officers and enters same into various police files via teleprocessing terminals.
Makes vehicle and person inquiries through the computer terminal.
Operates multiple networked computers and telephone systems and other common office equipment.
Maintains and updates logs of abandoned and towed vehicles, missing and wanted persons, and other miscellaneous police bulletins and records.
Performs other related duties as required.
MINIMUM QUALIFICATION REQUIREMENTS:
Training and Experience:
A combination of education and experience substantially equivalent to:
graduation from high school, and
two (2) years of radio telephone or telephone switchboard operation, dispatching, public contact or clerical/technical supervisory work experience.
Examination: The examination consists of a written test that will be administered on the Island of Hawai'i only. Candidates may be examined for their knowledge of office practices and procedures; filing methods and systems; the purposes and uses of standard office equipment; principles and techniques in dealing with people.
Please read the minimum qualification requirements carefully. Be certain to list all pertinent training and experience. It is essential that the applicant describe fully the duties and responsibilities of each position held, specify the date of each position held (from and to, month and year), and indicate the number of hours worked per week.
Attach all required documentation (e.g. official transcript, professional license(s)/certification(s), DD-214, etc.) at the time of submitting your application.
Note: In-person interviews and/or further testing in Hawai'i County may be required at the discretion of the hiring department/agency. If in-person interviews and/or further testing are required, applicants who are referred to the hiring department/agency must be available to participate in person and at their own expense at that phase of the selection process.
Ability to: learn departmental regulations, and policies and procedures of the Communications Division; learn pertinent laws and ordinances of the State and County of Hawai'i; learn to operate radio-telephone equipment; listen effectively; communicate clearly and calmly with police personnel and the general public; make sound decisions under stressful conditions; operate multiple keyboards and touch screen interfaces from several computerized systems simultaneously; operate standard office equipment, learn the names of towns, parks, beaches, streets, businesses, and other locations on the island of Hawai'i.
Physical Requirements: Persons seeking appointment to positions in this class must meet the health and physical condition standards deemed necessary and proper to perform the essential functions of the position with or without reasonable accommodations.
Physical Effort Grouping: Light