Hawaii Police Department
Office of the Chief
Lawrence K. Mahuna
Phone: 961-2244
August 18, 2008
(See larger image here.)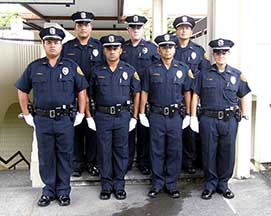 Members of the 73rd Recruit Class
(left to right):

Courtney Bello, Benjamin Nishimoto, Wyattlane Nahale, Joshua Flynn, Chester Franco, Jess Lambert, Chere Rae Lyons
Media Release
The seven members of the Hawaii Police Department's 74th Recruit Class were recognized August 14th during ceremonies held at the Hilo Hawaiian Hotel.
Three of the recruits received special recognition for their excellence in training. They were Secretary/Treasurer Chere Rae Lyons, who excelled in academic training, President Benjamin Nishimoto, who excelled in firearms training and Vice President Wyattlane Nahale, who excelled in physical fitness training.
The other recruits recognized were Courtney Bello, Joshua Flynn, Chester Franco and Jess Lambert.
The police recruits, who underwent five-and-a-half months of intensive training, will now undergo three-and-a-half more months of on-the-job field training with veteran police officers before they are qualified to work alone.
---

Print This Post