Hawaii Police Department
Office of the Chief
Harry S. Kubojiri
Phone: 961-2244
January 30, 2009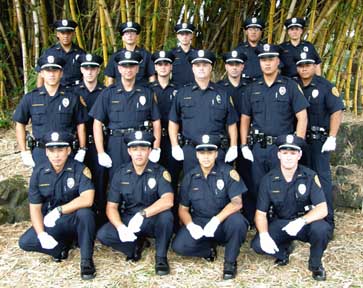 75th Recruit Class:
First row: Sheldon L. T. Nakamoto, Bronson K. Kaliloa, Azia R. Maze, Joshua J. Dumont
Second/third row: Kimo Keliipaakaua, Brandon K. Mansur, Brandon Murray, Kevin Brodie, Keith J. Custer, Jason A. Smith, Kenny A. Valdez, Ryan K. N. Pagan
Fourth row: Nelson R. Cacho, Jacob R. Tanaka, Jason M. Foxworthy, Donny A. Millet, Crystal Gayle K. Kekela
Media Release
Seventeen members of the Hawaii Police Department's 75th Recruit Class were recognized Friday (January 30) during ceremonies held at the Hilo Hawaiian Hotel.
The police recruits, who underwent five-and-a-half months of intensive training, will now undergo three-and-a-half more months of on-the-job field training with veteran police officers before they are qualified to work alone.
During Friday's luncheon ceremony, Mayor Billy Kenoi told the recruits that with great power comes great responsibility. He noted that this was the first recruit class under a new mayor and a new chief. "I know all of you will do great things," he said. "I'm honored to be here."
Pete Hoffman, vice chair of the Hawaii County Council, said he keeps his son's hat in his office because his son is a law enforcement officer. "It reminds me of the commitment that he has made to community service," Hoffman said. "My son remains my hero."
Louis Kaoiwi, vice chair of the Hawaii County Police Commission, urged the recruits to focus on integrity, respect, fairness, compassion, the Police Department's core values and the department's mission statement. "We are grateful for your choice and pray that you always remain safe while keeping us safe," he said.
Chief Harry Kubojiri told the recruits that from now on anything they do on or off duty reflects upon the entire police department. "It's been said many times that it takes a lifetime to build a good reputation and an instant to destroy it. Never forget that," he said. "Work hard every day to build upon the great reputation of our department and you will enjoy a long and rewarding career here."
Class President Brandon Murray, who was a police officer in Colorado for the past 10 years, said the recruit training here strengthened his bond with this police department and his commitment to our community. "This is not so much a celebration of an end, he said, but rather a celebration of a beginning."
The keynote speaker was Lawrence K. Mahuna, who recently retired as chief of the Hawaii Police Department. He said the recruits know how important the department's core values, mission statement and vision statement are today but he urged them not to forget that five or six years down the road. "My advice to you men and women of the 75th Recruit Class is stay the course," he said. "Make us all proud that you are part of our family." Mahuna told the recruits' families how important their role will be during this new career. "Please be a safe haven to them because they will need that more than anything else," he said. "Help them stay the course."
Four of the recruits received special recognition for their excellence in training. They were Murray, who excelled in firearms training, Crystal Kekela, who excelled in academic training, Ryan Pagan, who excelled in physical fitness training, and Kimo Keliipaakaua, who received the outstanding award for all aspects of recruit training, including attitude.
The other recruits recognized were Kevin Brodie, Nelson Cacho, Keith Custer, Joshua Dumont, Jason Foxworthy, Bronson Kaliloa, Brandon Mansur, Azia Maze, Donny Millet, Sheldon Nakamoto, Jason Smith, Jacob Tanaka and Kenny Valdez.
---

Print This Post