Hawaii Police Department
Office of the Chief
Harry S. Kubojiri
Phone: 961-2244
January 5, 2009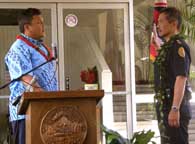 Hawaii County Mayor Billy Kenoi issues the oath of office to Chief Harry S. Kubojiri

Media Release
Hawaii County Mayor Billy Kenoi issued the oath of office to Hawaii Police Chief Harry S. Kubojiri and Deputy Chief Paul Ferreira on Monday morning during a ceremony at the Public Safety Building in Hilo.
In brief remarks after being sworn in, Chief Kubojiri told the audience that police officers and the public are all part of the same community. "This is your police department," he said. We are here to serve you."
Kubojiri pledged that the Police Department will be "as transparent as possible without violating anyone's personal rights or the law."
He compared the Police Department to a ship at sea and credited outgoing Chief Lawrence K. Mahuna with turning it around 180 degrees from where it was before. Kubojiri said it will take hard work to keep the Police Department on its path.
"I will try my best to keep us on course," he said. "I need your help. Together we can accomplish this."
Mahuna retired at the end of December. The Hawaii County Police Commission appointed Kubojiri, who was Mahuna's deputy chief, to the chief's position on December 3.
Before Kubojiri named Ferreira as his deputy chief, Ferreira was the assistant chief of the Administrative Bureau. The Police Commission confirmed Ferreira's appointment on December 30.
---

Print This Post