Hawai'i Police Department
Traffic Services Section
Dieter H Blattler, Traffic Safety Coordinator
Phone: 961-2226
August 16, 2010
(See larger image here.)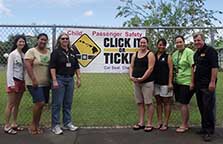 Kiko Camp, Jasmyn Paulo, Sergeant Kelly Kaaumoana-Matsumoto, Sandy Miyasato, Geoli Ng, Rindi Ramos and Traffic Safety Coordinator Dieter Blattler promote child passenger safety
Media Release
The Hawai'i Police Department's Traffic Services Section organized a car seat check-up during the Click It or Ticket Basketball Tournament at the Kawananakoa Sports Complex in Keaukaha on Saturday (August 14). This was to supplement the Hawaii Isle Police Activities League's efforts to promote passenger safety with a special Child Passenger Safety event.
The Traffic Services Section was supported by Hilo Medical Center's childbirth educator, Kiko Camp, as well as Sandy Miyasato, Geoli Ng, Jasmyn Paulo and Rindi Ramos from the Keiki Steps Preschool.
The public was invited to have their car seats checked for proper installation by certified car seat technicians.
Hawai'i's child passenger restraint law requires children under 4 to ride in a child safety seat. Children 4 through 7 must ride in either a child passenger restraint or booster seat.
Violators are required to appear in court. If convicted, violators must attend a four-hour class and may be assessed a penalty of $100-$500, depending on the number of offenses.
A Hawai'i State tax credit of $25 per year applies to the purchase of a child passenger restraint.
Research shows that child passenger restraints can reduce death by as much as 71 percent for infants and 54 percent for toddlers.
The most compelling reason for using a child passenger restraint is the safety of your child.
---

Print This Post