Hawai'i Police Department
Traffic Services Section
Dieter Blattler, Traffic Safety Coordinator
Phone: 961-2226
May 28, 2010
(See larger image here.)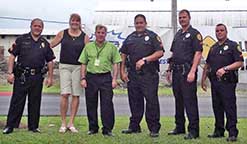 Traffic Enforcement Unit officers and representatives of the Impaired Driving Task Force remind motorists about the hazards of driving under the influence of alcohol.
Media Release
Big Island police will be conducting seat belt and DUI checkpoints throughout the Big Island during the upcoming weekend and throughout the summer break. The effort is part of a national and statewide campaign called "Drunk Driving: Over the Limit. Under Arrest."
On Thursday (May 27), officers from the Traffic Enforcement Unit conducted a DUI checkpoint in Hilo supported by Traffic Safety Coordinator Dieter Blattler and MADD Program Coordinator Lisa Onorato representing the Impaired Driving Task Force. They reminded motorists about the hazards of drinking and driving and gave them literature on the subject with emphasis on how little it takes to exceed the legal blood alcohol limit of 0.08 percent.
During the first five months of this year, there were 14 traffic deaths on Big Island roadways – twice as many as during the first five months of last year. Alcohol was involved in at least half of those fatalities.
"If you don't have a designated, sober and licensed driver, take a taxi," Blattler said. "It costs very little compared with the hardships of a DUI arrest – not to mention the pain of harming yourself or somebody else."
Subsidized taxi coupons are available from the Mass Transit Agency. For more information call 961-8744 or visit www.heleonbus.org/shared-ride-taxi-program.
---

Print This Post