Hawai'i Police Department
Traffic Services Section
Dieter H. Blattler, Traffic Safety Coordinator
Phone: 961-2226
March 16, 2010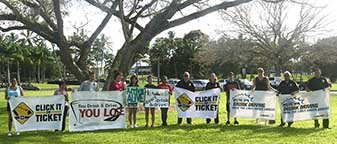 Sign wavers along Kamehameha Avenue remind motorists of the danger of impaired driving.
Media Release
The Hawai'i County Impaired Driving Task Force organized a sign-waving event on Kamehameha Avenue in Hilo on Monday (March 15). This event was to remind motorists that Spring Break has officially begun on our island and to make everyone aware of the danger of drinking and driving.
The Impaired Driving Task Force was supported by MADD's new Hawai'i Island program coordinator, Lisa Onorato; Hilo High School Key Club Advisor Charlene Masuhara and club members; a Kamehameha High School student; members of the Office for Social Ministry; Traffic Services Sergeant Kelly Ka'aumoana-Matsumoto, Community Police Officers and officers of the Traffic Enforcement Unit.
In the first 10 weeks of 2010, there were eight traffic fatalities—twice as many as in the same time period last year. At least half of them involved alcohol, drugs or both. In light of this, the sign wavers' key message to motorists was clear and simple: "Don't drink and drive!"
Dieter Blattler, traffic safety coordinator at the Hawai'i Police Department, pointed out that it's not only alcohol and illegal drugs that lead to impaired drivers. "I would like to remind everybody that prescription drugs can cause impairment and make people not fit to drive," Blattler said. "Always check with your doctor about driving when a new drug is prescribed."
---

Print This Post