Hawai'i Police Department
Office of the Chief
Harry S. Kubojiri
Phone: 961-22244
September 21, 2010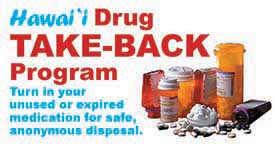 Hawaii Island Disposal Sites:
November 20-Longs Drugs at Prince Kuhio Plaza
December 11-Longs Drugs at Lanihau Center
Media Release
The state Department of the Attorney General, the Department of Public Safety, the U.S. Drug Enforcement Administration and community partners will take part in a Nationwide Prescription Drug Take-Back program starting September 25.
Members of the public can turn in unused, unneeded or expired prescription medications at collection sites across Hawai'i for safe, anonymous disposal.
On the island of Hawai'i, prescription drugs may be turned in on November 20 at Longs Drugs at Prince Kuhio Plaza in Hilo and on December 11 at Longs Drugs at Lanihau Center in Kailua-Kona. Tablets, capsules and all other solid dosage forms will be accepted. Intravenous solutions, injectables and syringes will not be accepted. The drugs will be incinerated according to federal and state environmental guidelines.
Having unused and expired medicine in your home increases the risk of prescription drug abuse and accidental poisoning. Proper disposal also helps reduce the risk of prescription drugs entering a human water supply or potentially harming aquatic life.
For more information about the drug take-back program, visit the state Attorney General's website at http://hawaii.gov/ag and click on "Hawaii Drug Take-Back Program."
---

Print This Post