Hawaii Police Department
HI-PAL Program, Area I
Officer Joseph Botelho Jr.
Phone: 961-2220
July 30, 2008
Media Release
The Hawaii Police Department's traffic Services and Hawaii Island Police Activities League (HI-PAL) held a "Click It or Ticket" 3-on-3 Basketball Tournament on July 19 and 20 at the Honokaa Sports Complex gymnasium.
Thirty-two teams entered in the following age groups: 7-8, 9-10, 11-12, 13-14, 15-17, girls 12 and under and girls 15-17.
The first-place medal recipients are identified below.
(Click photos to see larger image).
7-8 Age Division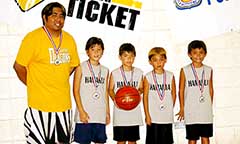 Hamakua (Coach, Lane Guzman) Hauoli Akau, Micah Miranda, Aina Alip, Kastle Quiocho
9-10 Age Division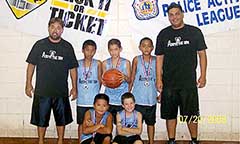 Above the Rim (Coaches, Lance Kekona, Ryan Salvador)
Back row: Booths Alessio, Calvin Mattos, Noah Delires.
Front row: Elemar Aguinaldo, Justin Tavares.
11-12 Age Division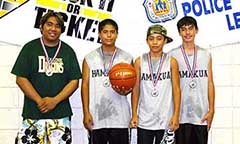 Hamakua (Coach, Lane Guzman)
Kazu Tolentino, Alika Alip, CJay Carvalho
13-14 Age Division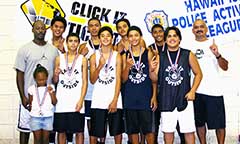 Take It Outside Red and Black
1st and 2nd place teams pose together: (Coaches, Henry Miranda, Fred Collins)
Randall Gomes, Isaiah Fonseca, Justin Toyomura, Donovan Hoohuli, Brent Ebanez, David Alvarez, Brennen Palisbo, Brandon Libao
15-17 Age Division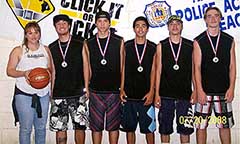 Honokaa I (Run Un Haad) (Coach, Denise Freitas)
Keala Freitas, Pono Freitas, Brandon Bautista Kapanai'a Carvalho, Cameron Naihe-Tabiolo
Girls 12 and Under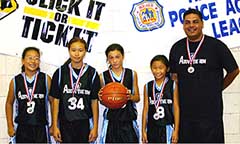 Above the Rim (Coach, Julio Tomas)
Shawn Mori, Kanoe Brickwood, Chailey Cabalis, Syndee Salvador
Girls 15-17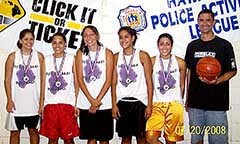 Big Island Ballaz (Coach, Kenyan Beals)
Tani Chamberlin, Mana Canon, Tia Denne-Kimi, Jaslyn Antonio-Patnaude, Chelsea Cooper
For information about future HI-PAL activities, please call the HI-PAL office in Hilo at 961-2220 or 896-9710. The fax number is 961-2209.
---

Print This Post