Hawai'i Police Department
HI-PAL
Officer Joseph Botelho Jr., East Hawai'i Program Coordinator
Phone: 961-2220
May 28, 2010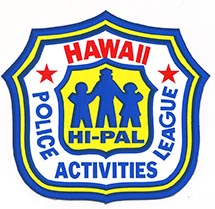 Media Release
The Hawai'i Police Department's Traffic Services Section and the Hawai'i Island Police Activities League (HI-PAL) are sponsoring their annual "Click It or Ticket" 3-on-3 basketball tournaments.
The dates and locations for this year's tournaments are:
July 9-11 at the Honoka'a Sports Complex
July 30-August 1 at Kauai High School
August 13-15 at the Kawananakoa Sports Complex in Keaukaha
September 11 at Pāhoa High School (for age groups 5-6 and 7-8 only)
A possible fifth event may be held in either Kohala or Kona.
"Click It or Ticket" is a national educational and enforcement campaign to increase seat belt use and decrease traffic fatalities and injuries.
"The Police Department is excited about bringing the 'Click It or Ticket' message to possibly five different district communities on the island," said Officer Joseph Botelho Jr., HI-PAL's East Hawai'i coordinator. "Last year's success will allow us to continue this type of venture island wide."
Team entries are being accepted in the following age groups:
5-6
7-8
9-10
11-12
13-14
High School boys
Girls 10 and under
Girls 12 and under
Girls 14 and under
High School girls
A participant may play in one division only. Each division will be limited to the first 10 teams that sign up. (Organizations wishing to register more than one team must enter one team at a time.)
Each team will be required to complete a registration packet prior to the tournament. Teams interested in participating or persons seeking additional information are asked to call Officer Botelho at 961-2220 or Officer Randy Morris at 326-4646, extension 258. Please drop off the completed packets at the Community Policing Office on the first floor of Building A at the South Hilo police station or at the Receiving Desk at the Kona station. Completed packets must be turned in by the following deadlines:
Friday, July 2 for the Honoka'a event,
Friday, July 23 for the Kea'au event,
Friday August 6 for the Keaukaha event
Friday, September 3 for the Pāhoa event
---

Print This Post