Hawaii Police Department
HI-PAL Program
Officer Joseph Botelho Jr.
Phone: 961-2220/896-9710
November 17, 2008
| | | |
| --- | --- | --- |
| | | |
| Jared Macanas and Jesse Lafita from the Boys and Girls Club Big Island Kings and Kaleo Miyasaki from Keaukaha keep their eyes on the ball in a 9-10 age division game during HI-PAL's Second Halloween Havoc 3-on-3 Youth Basketball Tournament. Despite their best efforts, an all-girls team won the division. | | HI-Pal Officers Randy Morris (left) and Joseph Botelho Jr. (right) pose with Ben Pana from the Keaukaha Athletics Sports Program. Their collaboration led to another successful Halloween Havoc basketball tournament held October 25 and 26 at Kawananakoa Hall in Keaukaha. This year 42 teams participated in the tournament, playing games in seven different divisions. |
Media Release (corrected)
An all-girls team named Keaukaha Black won the 9-10 age division when the Hawaii Isle Police Activities League (HI-PAL) held its Second Halloween Havoc 3-on-3 Youth Basketball Tournament on October 25 and 26.
The tournament was held at Kawananakoa Hall in Keaukaha in collaboration with Ben Pana and the Keaukaha Athletics Sports Program. Forty-two teams participated in divisions 5-6, 7-8, 9-10, 11-12, Boys 13-14, Girls 10 and Under, and Girls 14 and Under.
Officer Joseph Botelho Jr., HI-PAL's East Hawaii coordinator, said this year's goal was to exceed the 23 teams that participated last year. "We had 42 teams, just four shy of doubling last year's total," Botelho said. "Ben Pana and the Keaukaha Athletics Sports Program were again valuable assets to the HI-PAL program by providing the necessary referees and scorekeepers from the Keaukaha community, enabling the tournament to run smoothly."
Randy Kurohara and the staff at Creative Arts provided the participants, supporters, referees, scorekeepers and additional helpers with commemorative "Halloween Havoc 2" T-shirts. "They were well received by all," Botelho said.
Plans for 2009's "Halloween Havoc 3" are already in the making.
Below are the first-place winners of "Halloween Havoc 2."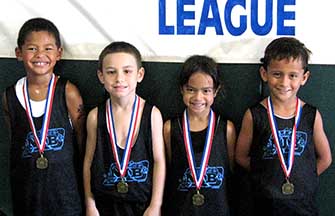 5-6 Age Division: Warriors I
(Coach, Randy Apele)
BJ Respicio-Mercado, Keegan Scanlan, Domonique Pacheco, Kiai Apele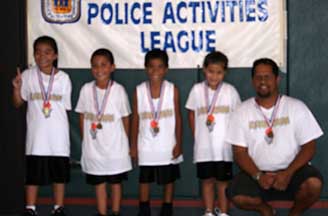 7-8 Age Division: Keaukaha
(Coaches, Mel Kilaulani and Michael Foster)
Delvin Kilaulani, Briden Silva, Kailee Kurokawa, Mikayla Foster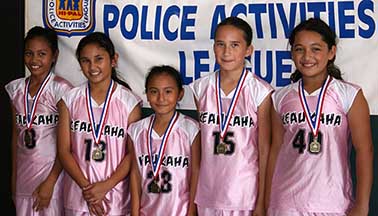 9-10 Age Division: Keaukaha Black
(Coaches, Bubba Victor and Ben Pana)
Alex Pana, Cierra Kelii, Sharlei Graham, Mercedes Victor, Shalyn Guthier.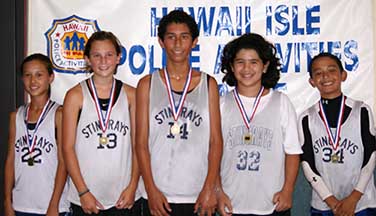 11-12 Age Division: Stingrays
(Coaches, Bobbie and Donnie Awa)
Gabrielle Ewing, Makani Wall, Jonah Bredeson, Kevin Medeiros, Brandon Awa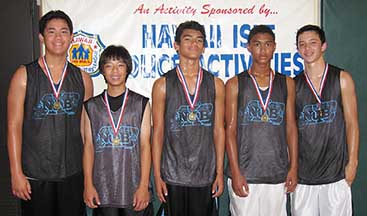 Boys 13-14 Age Division: Warriors
(Coach, Randy Apele)
Keoni Wong, Shaun Kagawa, Lanaki Apele, Varrick Suezaki, Kaeo Alapai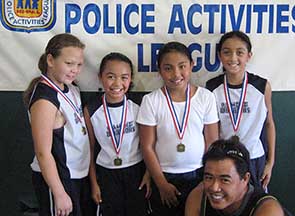 Girls 10 and Under Division: Wahine Warriors Blue
(Coaches, Elston Cabatu and Dominic Hiro)
Carley Sue Matsukawa, Kamalanai Kekuewa, Kapua Camero, Halia Evans-Bautista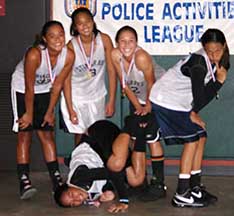 Girls 14 and Under Division: Stingrays
(Coaches, Bobbie and Donnie Awa)
Courtney Kaupu, Hoku Liftee, Dawnyelle Awa, Makayla Awa, Emalia Galdeira
---

Print This Post