Hawai'i Police Department
HI-PAL Program
Officer Joseph Botelho Jr.
Phone: 961-2220
November 12, 2010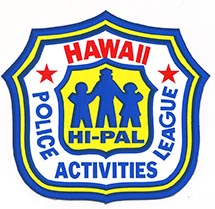 Media Release (corrects phone numbers in last paragraph)
The Hawaii Isle Police Activities League (HI-PAL) will hold its 30th Annual Winter Basketball Classic in Hilo from Sunday, December 26, through Wednesday, December 29. The championship games will be played on December 29 at the Ahfook-Chinen Civic Auditorium.
There is no entry fee for participation.
Team registration is open to the first 10 teams in the following age group divisions:
Boys 9 and 10
Boys 11 and 12
Boys 13 and 14
Girls 12 and under
Girls 14 and under
The team participation restriction is a direct result of the economy. Despite the limited resources, HI-PAL still strives to provide youth from throughout the state with a fun and safe activity.
Coaches interested in entering multiple teams should check with the East Hawaii HI-PAL office for space availability.
Teams interested in entering should call Officer Joseph Botelho Jr. at 961-2220 as soon as possible.
The deadline to register a team is December 17. No exceptions will be made for registrations after the deadline.
Teams that have picked up and completed their registration packets must send their "Team Eligibility Affidavit Form" (also known as the roster) to the HI-PAL office. The packets may be mailed to:
HI-PAL 2010
W.B.B.C. c/o Hawai'i Police Department
349 Kapi'olani Street
Hilo, HI 96720
Packets also may be dropped off in person after calling Officer Botelho to make arrangements.
Teams who have not turned in their roster forms by December 17 will not be placed on the tournament schedule.
For more information about this year's event, call Officer Botelho at 961-2220, Officer Randy Morris at 326-4646, extension 258, or the East Hawai'i Community Policing office at 961-8121 [corrected number]. The Community Policing fax number is 933-4000 and the HI-PAL fax number is 961-2209 [added number].
---

Print This Post