Hawaii Police Department
Office of the Chief
Lawrence K. Mahuna
Phone: 961-2244
October 10, 2008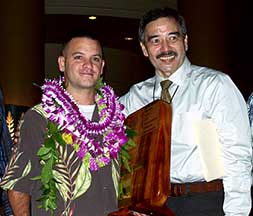 HSLEOA Officer of the Year: Brian Prudencio
…Chief Lawrence K. Mahuna congratulates Officer Prudencio
Media Release
Officer Brian Prudencio was named the Hawaii Police Department's "Officer of the Year" by the Hawaii State Law Enforcement Officials Association.
At a dinner ceremony on September 26 at the Water's Edge Ballroom of the Hilton Waikoloa Resort, Prudencio was honored for his work as a vice officer in the Ice Task Force, which is part of the department's Area I Vice Section.
Prudencio initiated 362 cases last year and arrested 73 suspects for a total of 308 charges. The average case load and arrest rate for the Area I Vice Section during that period was 189 cases, 41 arrests and 142 charges. In addition, Officer Prudencio drafted and served 42 drug-related search warrants.
Prudencio was honored for being a dedicated self-motivated and focused officer who is a natural leader, a team player and someone who generates detailed reports to document his cases. He was also recognized for his undercover work off island to assist other police departments.
---

Print This Post