Hawai'i Police Department
Criminal Investigation Section, Area II
Lieutenant Gerald Wike
Phone: 326-4646 Ext. 266
October 25, 2010
Report No. C10029494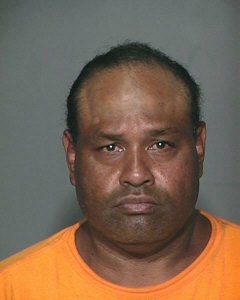 Calvin Vierra
…arrested and charged for assault
Media Release
On Friday (October 22) at approximately 4:05 p.m., Kona Patrol Officers arrested a Kailua-Kona man for an outstanding bench warrant, resisting arrest and assault against a law enforcement officer.
Calvin Vierra, m-47, was contacted by a Traffic Enforcement Officer on Alii Drive near Lymans Beach and was found to have an outstanding bench warrant for his arrest. Vierra allegedly resisted being arrested and struck the officer who sustained injuries during the assault. The officer was treated for his injuries at the Kona Community Hospital and released.
On Saturday (October 23) at 1:20 p.m., detectives with the Area II Criminal Investigation Section charged Vierra with resisting arrest and two counts of assault against a law enforcement officer. Vierra was charged by Kona Patrol officers for the outstanding bench warrant.
Vierra remains in custody at the Kona Police Station Cellblock in lieu of $14,300 pending his initial court appearance.
---

Print This Post