Hawaii Police Department
Office of the Chief
Lawrence K. Mahuna
Phone: 961-2244
October 08, 2008
(See larger image here.)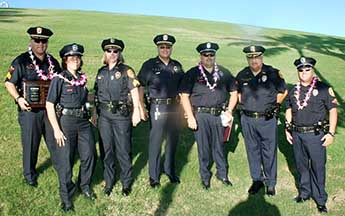 (from left): Sergeant Christopher Gali, Officer Joslyn Kabalis, Sergeant Kelly Kaaumoana-Matsumoto, Assistant Chief Henry Tavares, Officer Wendal Carter, Assistant Chief Derek Pacheco and Officer Robert Pauole pose with MADD award.
Media Release
The Traffic Enforcement Unit of the Hawaii Police Department has received the Mothers Against Drunk Driving Hawaii 2008 Law Enforcement Award. The Traffic Enforcement Unit was recognized — along with individual officers from the Honolulu, Maui and Kauai police departments — for their outstanding work in the prevention of impaired driving.
The award was presented on September 27 at the annual Mothers Against Drunk Driving (MADD) Hawaii Candlelight Vigil of Hope and Remembrance at the Kakaako Waterfront Park in Honolulu.
During fiscal year 2007-2008 (July 1, 2007, through June 30, 2008), Traffic Enforcement Unit officers arrested 438 drivers for operating a vehicle under the influence of an intoxicant. Officers also conducted 90 DUI sobriety checkpoints throughout the Big Island.
Members of the Traffic Enforcement Unit are its commander, Sergeant Christopher Gali, and Officers Wendall Carter, Robert Pauole, Andres Fojas Jr., Clarence Davies, Marvin Troutman Sr. and Joshua Lewis.
Also receiving an award in the individual category was Officer Joslyn Kabalis of the Kona District for her outstanding work in apprehending impaired drivers in Kona.
---

Print This Post