Hawai'i Police Department
Criminal Investigation Section, Area II
Lieutenant Gerald Wike
Phone: 326-4646, Ext. 266
September 8, 2010
Report No. C10025110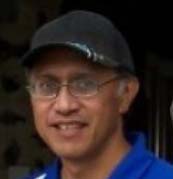 William "Billy" Palea
…reported missing
Media Release
Big Island Police are searching for a 57-year-old Kona man who was reported missing on Wednesday, September 8, 2010.
William "Billy" Palea of Honalo, North Kona, was last seen on Tuesday, September 7, 2010, in the Captain Cook, South Kona area around 7:30 a.m.
Palea is described as approximately 5-foot-9, 180 pounds, with a tan complexion, short salt-and-pepper colored hair and brown eyes. He was last seen wearing a white T-shirt with an unknown design on it, blue jeans, black slippers, and a black baseball cap. Palea wears prescription glasses and is in need of daily medications that he may not have with him.
Palea may be operating a 1996 Geo Metro 2-door sedan, blue/green in color with Hawai'i license plate no. HWY 042.
Police are asking that anyone with information on his whereabouts call the Police Department's non-emergency line at 808-935-3311 or Detective Charles Adams at 808-326-4646, ext. 262.
Tipsters who prefer to remain anonymous may call Crime Stoppers at 808-961-8300 in Hilo or 808-329-1818 in Kona. All Crime Stoppers information is confidential.
---

Print This Post