Hawai'i Police Department
Office of the Chief
Harry S. Kubojiri
Phone: 961-2244
March 19, 2010
(See larger image here.)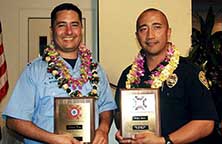 Officer of the Year, Officer William "Willie" Brown, right, and Firefighter of the year, Captain Christian Wong, display their awards.
Media Release
The Aloha Exchange Club of East Hawai'i recognized Officer William "Willie" Brown as "Officer of the Year" and Captain Christian Wong as "Firefighter of the Year" in a dinner ceremony Thursday evening (March 18).
Brown is a patrol officer in the Puna District who joined the Police Department in 2003. Wong joined the Fire department in 1995 and has been stationed at the Honoka'a fire station for most of his career.
During a ceremony at the Hilo Yacht Club, both men received a proclamation from the mayor's office and a plaque from the Aloha Exchange Club.
Brown was honored for his investigation of a burglary ring in Mountain View. According to Sergeant Juergen Canda's nomination papers, Brown was assigned to a burglary task force because of his "outstanding investigative skills" in connection with a burglary in the Pacific Paradise Gardens subdivision. His efforts in that investigation led to the arrest of four suspects, the closure of four burglary cases linked to those suspects, and the recovery of property.
"Officer Brown's distinctive accomplishment had a tremendous impact on burglaries plaguing the Mountain View neighborhoods and reduction in further offenses," Canda wrote. "His abilities and dedication to duty resulted in successes that enhanced community confidence in our efforts to serve them and reflect credit upon Officer Brown and the Hawai'i Police Department."
In accepting his award, Brown thanked the Aloha Exchange Club, his fellow officers and Sergeant Canda. "When we got into this profession to be police officers, we all looked at making a difference," Brown said. "I look at it this way: We make a difference one person at a time."
Wong was recognized for offering to form a pandemic planning committee, which ultimately drafted the Fire Department's Pandemic Preparation Plan.
"Captain Wong has been instrumental in every phase of this project of education, training and vaccination of all of our personnel in our Fire Department," said Fire Chief Darryl Oliveira in his nomination papers. "Without his dedication, persistence and passion for seeing this through, our department would have not been prepared when the first wave of the H1N1 virus reached our state and, of course, our island."
Wong thanked his chief for nominating him and the Aloha Exchange Club for bestowing the award. "So many dedicated men and women work in this department to serve the community," he said. "Some of them are as deserving, if not more deserving, than I am. I am so fortunate to have this job and to work alongside them."
The Officer of the Year and Fire Fighter of the year awards are projects of the Aloha Exchange Club of East Hawai'i.
---

Print This Post