HAWAII COUNTY POLICE DEPARTMENT
INVESTIGATIVE OPERATIONS BUREAU
ASSISTANT CHIEF WENDELL D. PAIVA
PHONE: 961-2341
JANUARY 6, 2002
G-92825/SK
MURDER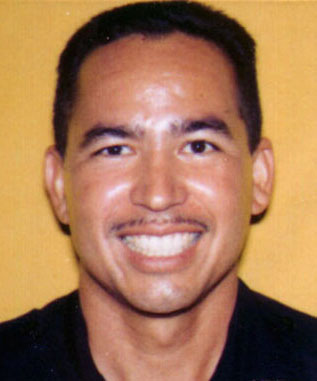 ALBERT PACHECO
…charged with second-degree murder
MEDIA RELEASE UPDATE
Big Island police have charged a police detective with murder and other offenses for the shooting death of his wife on Friday (January 4, 2002).
At 4:50 p.m. Sunday (January 6, 2002), police charged Kona Criminal Investigation Section Detective Albert Pacheco with second-degree murder, first-degree criminal property damage and first-degree terroristic threatening. He is being held without bail at the Hilo police cellblock pending arraignment in District Court on Monday.
Pacheco, an 11-year veteran with Hawaii County Police Department, was off-duty at the time he allegedly shot and killed his wife, Cathalene Ann Pacheco, 42.
An autopsy conducted Sunday by Dr. Alvin T. Omori, a Honolulu forensic pathologist, concluded that the victim had died of multiple gunshot wounds to the head.
About 7 p.m. Friday evening, Pacheco allegedly drove his county-subsidized police car into a van driven by his wife, blocking her vehicle, then shot her several times near their home in Waikoloa, South Kohala.
South Kohala patrol officers responding to a reported shooting and traffic accident in Waikoloa arrested Pacheco without incident at 7:25 p.m., after they determined that the female driver of the second vehicle had been shot several times.
Police recovered a handgun believed to have been used in the shooting, and the firearm will be sent to the Honolulu police crime laboratory for ballistic and forensic testing.
The victim was transported to the Hilo Medical Center, where she was pronounced dead.
Police believe the motive that prompted Pacheco to shoot his wife stemmed from marital problems between the two.
Pacheco joined the Hawaii County Police Department in January 1991 and worked in the South Kohala Patrol District. In May 1999, he was promoted to detective-sergeant and assigned to the Kona Criminal Investigation Section.
Before joining the Big Island department, he had worked as a police officer in Honolulu, starting in 1981.
# # #

Print This Post