Hawaii Police Department
Office of the Chief
Harry S. Kubojiri
Phone: 961-2244
January 7, 2009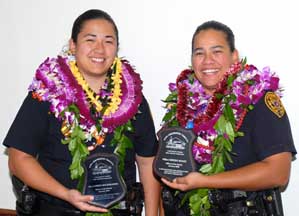 Kimmerlyn Makuakane-Jarrell and Destiny Hoopii
…Kona Officers of the Month
Media Release
The Kona Crime Prevention Committee recognized Officers Kimmerlyn Makuakane-Jarrell and Destiny Hoopii as "Officers of the Month" in a luncheon ceremony Wednesday (January 7) at King Kamehameha's Kona Beach Hotel.
Makuakane-Jarrell and Hoopii were recognized for their apprehension and arrest of two juveniles suspected of involvement in five felony cases, including burglary.
As "Officer of the Month," each is eligible to become "Officer of the Year."
The Kona Crime Prevention Committee is an organization that encourages community involvement in aiding and supporting police in West Hawaii.
---

Print This Post