Hawaii Police Department
South Hilo Patrol
Lieutenant Gregory Esteban
Phone: 961-2211
May 15, 2008
Report No. C08014393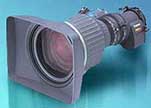 Media Release
Big Island police are asking the public's assistance in locating a stolen camera lens reportedly taken in early May.
A visiting production company was in Hilo and was staying at a hotel on Banyan Drive. An employee of the company reported that while in the lobby of the hotel and loading production equipment into the company's vehicles, the case containing a Canon HJ-21 X 7.5 video camera lens with the serial number 10113 was missing. Subsequent area checks were conducted and the lens could not be located.
The hotel's video surveillance system did not capture the lobby area where the alleged theft occurred.
The value of the commercial video lens is $20,000.
Police ask anyone with information on the identity of the responsible persons or the camera's whereabouts to call Officer Benny Ruffolo at 961-2211 or the Police Department's non-emergency line at 935-3311. Tipsters who prefer to remain anonymous may call Crime Stoppers at 961-8300 in Hilo or 329-8181 in Kona. All Crime Stoppers information is kept confidential.
---

Print This Post