Hawai'i Police Department
Criminal Investigation Section, Area II
Detective Bradley Freitas
Phone: 326-4646 Ext. 245
October 28, 2010
Report No. C10026088/KN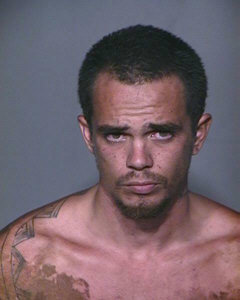 Kaulike Rice
Wanted for an outstanding bench warrant.
Media Release
Big Island Police are renewing their request to the public for assistance in locating a man wanted on several outstanding bench warrants related to a burglary, stolen vehicles and drug offenses.
29-year-old Kaulike Rice is wanted in connection with a recent indictment handed down by a Grand Jury. The indictment charges Rice as being responsible for a burglary which occurred in Holualoa this past September 10th in which computer equipment, vehicle documentation, lawn care equipment, a large amount of savings bonds and a significant amount of jewelry was taken, in which the value of loss was approximately $75,000. In addition to the indictment Rice is being sought for his involvement in four stolen vehicle investigations, resisting arrest , drug offenses, and a bench warrant of arrest for Contempt of Court.
He is described as 5'9″ tall, he has brown hair with a medium build and numerous tattoos including a tribal type of tattoo on his right arm from the shoulder down, "Manoa" on the small of his back and a partial Hawaiian flag on his right calf.
Police ask that anyone who may know the whereabouts of Rice is asked to call the Police Department's non-emergency line at 935-3311. Tipsters who wish to remain anonymous may call Crime Stoppers at 961-8300 in Hilo or 329-8181 in Kona. All Crime Stoppers information is kept confidential.
---

Print This Post