Hawaii Police Department
Criminal Investigations Section, Area II
Lieutenant Robert Wagner
Phone: 326-4646. Ext. 266
November 23, 2007
Report No. C07034298
(See larger photo)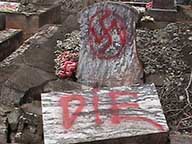 Grave desecration
…sometime between September 23 and October 24
Media Release
Big Island police are asking for the public's assistance in a criminal property damage investigation.
Between September 23 and October 24, 2007, an ancestral burial site was desecrated. Tombstones at the Koki Kihoi grave site were vandalized with graffiti by unknown responsible parties. The burial site is located off Pukalani Road in Waimea, next to North Hawaii Community Hospital.
Police ask anyone with any information about this case to call Detective Regino Saludares at 326-4646, extension 277, or the Police Department's non-emergency number at 935-3311.
Tipsters who prefer to remain anonymous may call Crime Stoppers at 961-8300 in Hilo or 329-8181 in Kona. All Crime Stoppers information is kept confidential.
---

Print This Post