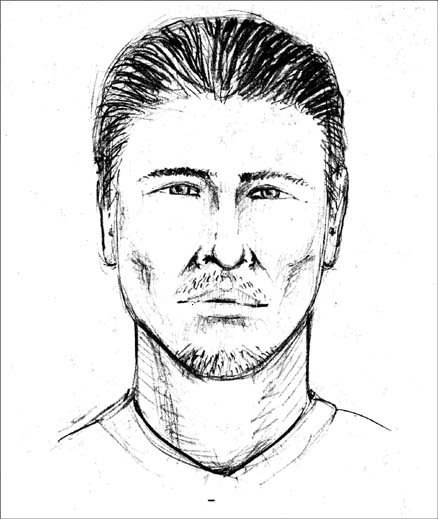 WANTED FOR ROBBERY
…police release composite sketch
HAWAII COUNTY POLICE DEPARTMENT
HILO CRIMINAL INVESTIGATION SECTION
DETECTIVE GREG ESTEBAN
PHONE: 961-2384
MARCH 15, 2000
G-22984
MEDIA RELEASE
Police have released a composite sketch of a suspect wanted in an armed robbery Tuesday night (March 14, 2000) at the Wailoa State Park in Hilo.
Responding to a 9:26 p.m. call, police officers determined that the victim, an 18-year-old male, was sitting in a vehicle in the park when he was accosted by a male suspect brandishing a handgun and demanding cash and compact disks. After taking an undisclosed amount of cash and a number of CD's, the suspect fled on foot toward Waiakea Villas.
The suspect was described as being in his early to middle 20s, as possibly being a Caucasian with a fair complexion, being about 5-feet-8 in height, weighing 140 to 150 pounds with a slim build, having a slight, dark blond goatee and mustache and having blondish or light brown hair short on the sides and longer on top.
The suspect was last seen wearing a baggy white T-shirt with an unknown figure screened on front and dark, possibly denim, shorts.
Anyone with any information about the incident or who the suspect may be is asked to call Detective Greg Esteban of the Hilo Criminal Investigation Section at 961-2384 or the police emergency number at 935-3311.
Those who wish to remain anonymous may call Crime Stoppers at 961-8300 in Hilo or 329-8181 in Kona. The numbers are answered 24 hours a day. Callers will be given a coded number and their identity will remain anonymous. Callers may be eligible for a reward of up to $1,000 if their call leads to an arrest, indictment or the recovery of property. Crime Stoppers neither subscribes to "Caller ID," nor does it record phone calls.
# # #

Print This Post