HAWAII POLICE DEPARTMENT
WEST HAWAII CRIMINAL INVESTIGATION DIVISION
CAPTAIN ROBERT HICKCOX
PHONE: 326-4646 EXT 263
DECEMBER 15, 2005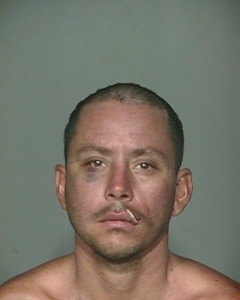 MEDIA RELEASE
On December 15, 2005 detectives from the West Hawaii Criminal Investigation Section arrested and charged Paul Sisneros, age 31, of Hilo, for various property, firearms, and drug offenses after he was apprehended Tuesday, in a vehicle stolen from the Hawaii Island Food Bank, in Honalo, Kona, during the month of November 2005.
After executing a search warrant on the stolen vehicle, detectives recovered property stolen from the Hawaii Island Food Bank, a stolen firearm, ammunition, property from another burglary, a small amount of crystal methamphetamine, and drug paraphernalia.
Sisneros was arrested and charged for Unauthorized Control of a Propelled Motor Vehicle, 3 counts of firearms offenses, 2 counts of Receiving Stolen Property, Promoting Dangerous Drugs, and Drug Paraphernalia. Bail for Sisneros is set at $28,000.00 and he is currently in custody at the Kona District Station cellblock until his court appearance scheduled for tomorrow.
Detectives from the Criminal Investigation Section are continuing their investigation in the case. Anyone with who may have information regarding this case or other recent burglaries are asked to call Detective Mark Haggerty, at 326-4646 extension 277, or the non emergency number 935-3311.
Persons who wish to remain anonymous may call Crime Stoppers at 961-8300 in Hilo or 329-8181 in Kona. All Crime Stoppers information is kept strictly confidential.
###

Print This Post