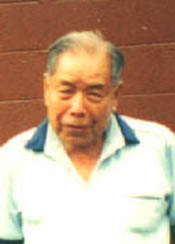 MASAKI SONOMURA
…reported missing
HAWAII COUNTY POLICE DEPARTMENT
SOUTH HILO PATROL DIVISION
LIEUTENANT CHADWICK K. FUKUI
PHONE: 961-2311
FEBRUARY 1, 2000
G-18918
MEDIA RELEASE
Police and fire rescue units are conducting an air and ground search for a 90-year-old Hilo man missing from the Paukaa home since Monday night (January 31, 2000).
Masaki Sonomura, founder and chairman of M. Sonomura Contracting Co., Inc., has been missing from his 85 Kukahi Street home since 11:30 p.m. Monday. A search for Sonomura began as soon as he was reported missing at 6:40 a.m. Tuesday.
The only description of his clothing was that he was wearing an oversized green T-shirt.
Family members said Sonomura was taking antibiotics and medication for high blood pressure and high cholesterol, and they described him as being in good mental health.
Anyone who has seen Sonomura or may know of his whereabouts is asked to call police at 935-3311
# # #

Print This Post