HAWAII COUNTY POLICE DEPARTMENT
OFFICE OF THE POLICE CHIEF
PHONE: 961-2244
JULY 15, 2004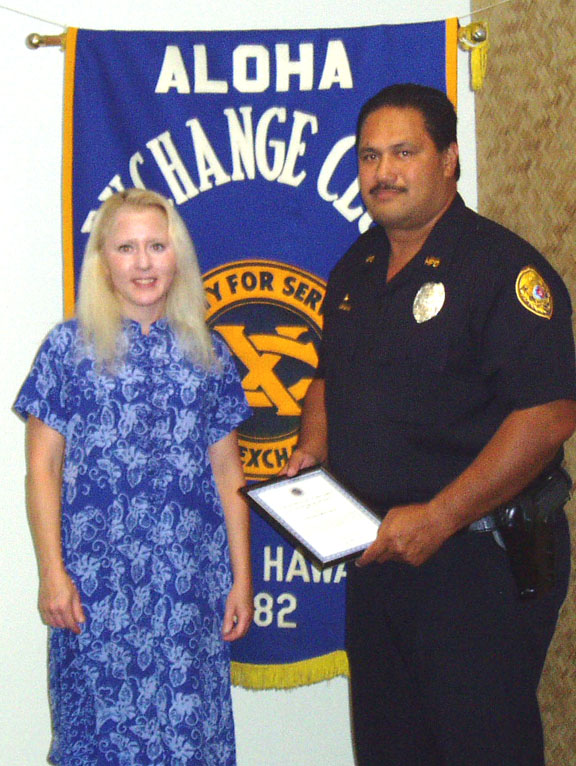 OFFICER OF MONTH – South Hilo Patrol Officer Romeo Fuiava receives the Police Officer of the Month award from Beth Dykstra, vice president of the Aloha Exchange Club of East Hawaii.
MEDIA RELEASE
Officer Romeo Fuiava of the South Hilo Patrol Division was named Police Officer of the Month for May 2004 by the Aloha Exchange Club of East Hawaii.
Club Vice President Beth Dykstra presented Fuiava with the award during a luncheon meeting Thursday (July 15, 2004) in the Leilani Room of Uncle Billy's Hilo Bay Hotel.
Nominated by his supervisor, Lt. Randall Medeiros, Fuiava was recognized for his outstanding police work in the identification and arrest of a sexual assault suspect in Hilo during April.
In nominating Fuiava, Medeiros wrote: "Officer Fuiava's incredible ability to remember names and faces along with his persistence to locate the suspect … is directly responsible for taking an extremely dangerous suspect off our streets."
The Police Officer of the Month is only one of the community service programs sponsored by the Aloha Exchange Club of East Hawaii.
The Aloha Exchange Club, along with Hilo Exchange Club, are affiliated with the National Exchange Club, a non-profit community service organization comprised of 33,000 members and 1,000 clubs throughout the United States and Puerto Rico.
# # #

Print This Post