HAWAII COUNTY POLICE DEPARTMENT
KONA PATROL DIVISION
LIEUTENANT BRADLEY H. BALLESTEROS
PHONE: 326-4208
NOVEMBER 22, 2000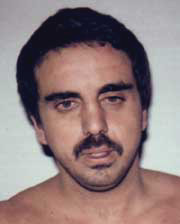 RALEIGH FREITAS
…HCCC escapee sought
MEDIA RELEASE
Police are looking for an inmate who escaped while making an appearance Wednesday (November 22, 2000) in the Kealakekua, Kona, Circuit Court.
At 12:22 p.m., Kona police received a report of an escape in progress at the court.
The escapee, identified as Raleigh Freitas, 27, was in the custody of adult corrections officers from the Hawaii Community Correctional Center and was making a court appearance when he escaped while still in handcuffs.
Freitas is described as being 5-feet-10, weighing about 185 pounds and having brown hair and brown eyes. He was last seen wearing a dark brown HCCC jumpsuit.
Anyone with information on the whereabouts of the escapee is asked to call the Kona police are 326-4646 or the police non-emergency number at 935-3311.
Those who wish to remain anonymous may call Crime Stoppers at 329-8181 in Kona or 961-8300 in Hilo. Crime Stoppers keeps the identities of callers strictly confidential.
# # #

Print This Post