HAWAII COUNTY POLICE DEPARTMENT
OFFICE OF THE POLICE CHIEF
PHONE: 961-2244
AUGUST 26, 2003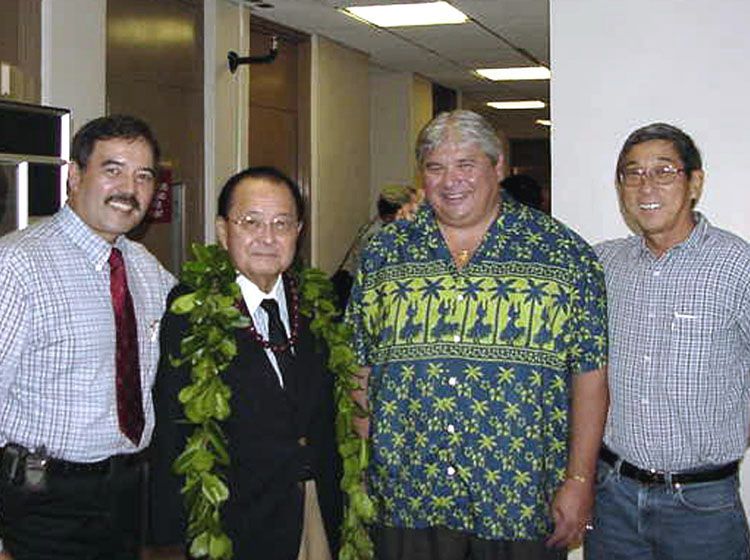 INOUYE VISIT – U.S. Senator Daniel K. Inouye visits the Hawaii County Police Department's improved Crime Laboratory. Here, Inouye stops for a photo with Police Chief Lawrence K. Mahuna, left, Assistant Chief Wendell D. Paiva and Mayor Harry Kim.
MEDIA RELEASE
U.S. Senator Daniel K. Inouye visited the Police Department's Crime Laboratory Tuesday (August 26, 2003) to get a first-hand look at improvements he helped fund.
During a tour of the crime lab, the senator learned that because of $350,000 in grants he sponsored through Congress, the Hawaii County Police Department is able to cut the waiting period for crime lab test results in half.
The money to purchase new equipment came from a rural development grant allocated through the Hawaii Community College.
Among the equipment purchased through the funds were an auto-sampler system that greatly increases the speed in testing drug samples, three stereo compound and three stereo dissecting microscopes and digital photography equipment.
Captain Samuel Thomas, head of the East Hawaii Criminal Investigation Division, explained that because the time needed to receive the results of drug tests exceeded 48 hours, police frequently had to turn suspected drug dealers back on the streets. The new crime lab equipment should eliminate a lot of the problem, he said.
# # #

Print This Post