HAWAII POLICE DEPARTMENT
KONA CRIMINAL INVESTIGATION DIVISION
CAPTAIN ROBERT HICKCOX
PHONE: 326-4646
September 9, 2005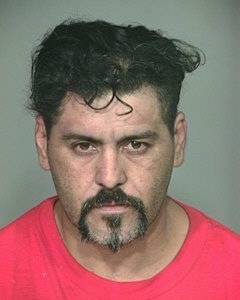 MEDIA RELEASE
On Wednesday, September 7, 2005, Detectives from the West Hawaii Criminal Investigation Section arrested and charged Jamie Martinez-Sanchez, M-34, of no permanent address, with various offenses after he was arrested by Kona Patrol officers driving a stolen vehicle, in Kailua Kona.
In attempting to avoid arrest, Martinez-Sanchez attempted to elude officers in the stolen vehicle, but was arrested after he abandoned the vehicle and tried to hide in nearby bushes.
Based on information obtained through investigations and the public, West Hawaii detectives arrested and charged with four counts of Burglary, eight counts of Unauthorized Control of Propelled Motor Vehicle, three counts of Theft, two counts of Fraud Use License Plates, and twelve traffic offenses.
Officers were able to recover the stolen vehicles and some of the property taken in the investigations. While conducting the investigation into the thefts of eight vehicles, detectives learned that keys to several of the vehicles were stolen during burglaries; the other vehicles stolen either had keys left in the ignitions or they were hot-wired.
Bail for Martinez-Sanchez was set at $50,000.00 for his offenses as well as another $9,000.00 for an outstanding bench warrant.
Martinez-Sanchez was unable to post bail and transported to Kona District Court, on Thursday, September 8, 2005. After his court appearance, Martinez-Sanchez was transferred to Hawaii Community Correctional Center, in Hilo, where he is currently being held.
Anyone who may have information regarding this or other investigations can call the West Hawaii Criminal Investigation Section, at 326-4646 extension 268 or the police non-emergency number at 935-9311. Those who wish to remain anonymous may call Crime Stoppers in Kona at 329-8181 or Hilo at 961-8300. All Crime Stoppers information is kept strictly confidential.
# # #

Print This Post