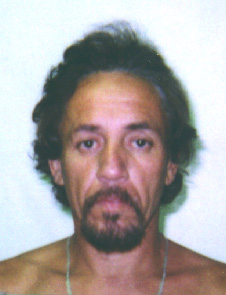 CHARLES SADINO
…escapee from Kulani
HAWAII COUNTY POLICE DEPARTMENT
HILO CRIMINAL INVESTIGATION SECTION
DETECTIVE GREG ESTEBAN
PHONE: 961-2384
JUNE 1, 2000
G-28788
MEDIA RELEASE
Police are renewing a request for the public's help in finding an inmate who escaped May 14, 2000, from the Kulani Correctional Facility.
The escapee was identified as Charles Sadino, 42, also known as "Alika Kahikina," previously of a Pahoa, Puna, address.
Sadino is described as being of Caucasian-Portuguese descent, being 5-feet-4 in height, weighing about 158 pounds with a medium build, having a tan complexion and having brown hair and brown eyes.
Police say residents should not try to detain the escapee, but to call Detective Greg Esteban at 961-2384 of the Hilo Criminal Investigation Section or Hilo Patrol at 935-3311.
Anyone with information on Sadino's whereabouts and who wishes to remain anonymous may call Crime Stoppers at 961-8300 in Hilo and 329-8181 in Kona. All information given to Crime Stoppers is kept strictly confidential.
# # #

Print This Post