Hawaii Police Department
Office of the Chief
Lawrence K. Mahuna
Phone: 961-2244
November 29, 2007
(See larger photo)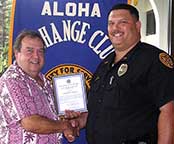 Aloha Exchange Club of East Hawaii
President Winston Churchill, left, presents an
"Officer of the Month" certificate to Officer Duffy Duldulao.
Media Release
The Aloha Exchange Club of East Hawaii recognized Officer Duffy Duldulao as "Officer of the Month" for September in a luncheon ceremony Thursday (November 29).
Duldulao was recognized for his compassion and for investigative skills that led to the arrest of a teenager who burglarized a Hilo home while a 79-year-old woman and an 81-year-old man were home. During the September 23 burglary, the 15-year-old boy pushed down both the husband and wife, causing minor injuries. He fled while police were en route to the scene.
Duldulao learned that the couple's home had been burglarized the previous night and that money had been taken from a back bedroom while the couple slept.
Duldulao conducted extensive checks of the neighborhood and tracked the suspect to a home in the area. The juvenile was eventually charged with both burglaries and the robbery.
In nominating Duldulao for Officer of the Month, Acting Lieutenant Richard Miyamoto described him as "very soft spoken and compassionate" and said Duldulao has a reputation for conducting detailed investigations. "His demeanor, concern and soft-spoken mannerism helped to comfort this elderly couple, and the apprehension of the suspect helped to alleviate their fears," Miyamoto said.
As Officer of the Month, Duldulao is eligible to become Officer of the Year.
The East Hawaii Officer of the Month award is a project of the Aloha Exchange Club of East Hawaii.
---

Print This Post