HAWAII COUNTY POLICE DEPARTMENT
OFFICE OF THE POLICE CHIEF
PHONE: 961-2244
JULY 22, 2002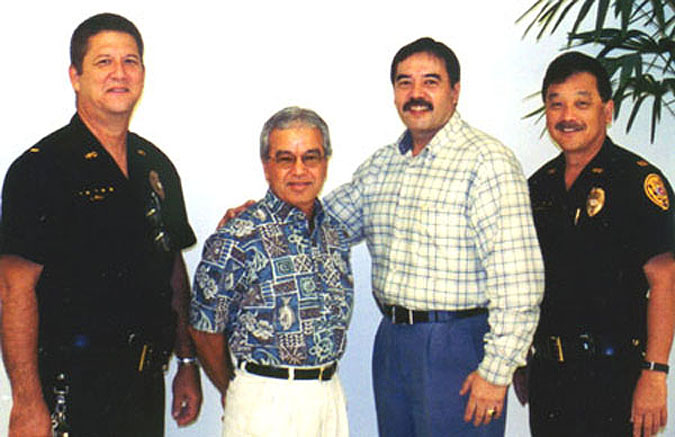 MAJOR DONORS-The Hawaii County Police Department has kicked off its annual blood drive. Pictured here during tghe department's kick-off ceremonies, from left, are Lieutenant James Kelly, Gary Maesato, Assistant Chief Lasrence Mahuna and Captain Ronald Nakamichi.
MEDIA RELEASE
The Hawaii County Police Department honored major blood donors Monday (July 22, 2002) during ceremonies to kick off its annual Police Department Blood Bank Drive.
Assistant Chief Lawrence K. Mahuna recognized three department employees for giving more than 20 pints of blood over the years. They were:
Gary T. Maesato, department business manager, who has given 103 pints of blood. Maesato received a "Century Donor" pin recognizing him for giving at least 100 pints of blood.
Captain Ronald T. Nakamichi of the South Hilo Patrol Division, who has donated 61 pints of blood.
Lieutenant James Kelly of the Puna Patrol District, who has given 26 pints of blood.
Mahuna also recognized Warden Beryl Iramina of the Hawaii Community Correctional Center and her staff for joining the police department in the blood bank drive.
The police drive will be held on Tuesday (July 23, 2002). The goal is to reach 100 pints donated to the Blood Bank of Hawaii.
Other department employees who have given at least 20 pints of blood, but who could not attend the kick-off ceremonies, are: Captain Elroy Osorio, Puna Patrol District, 61 pints; Leslie K. Matsumoto, Communications-Maintenance Section, 56 pints; Lieutenant Robert P. Hickox, Kona Vice Section, 25 pints; Officer Melvin M. Sato, Puna Patrol District, 21 pints; and Reserve Officer Kenneth N. Uyeda, Kona Patrol Division, 20 pints.
# # #

Print This Post