HAWAII COUNTY POLICE DEPARTMENT
COMMUNITY RELATIONS SECTION
OFFICER MIKE RIVIERA
PHONE: 961-2269
MAY 17, 2005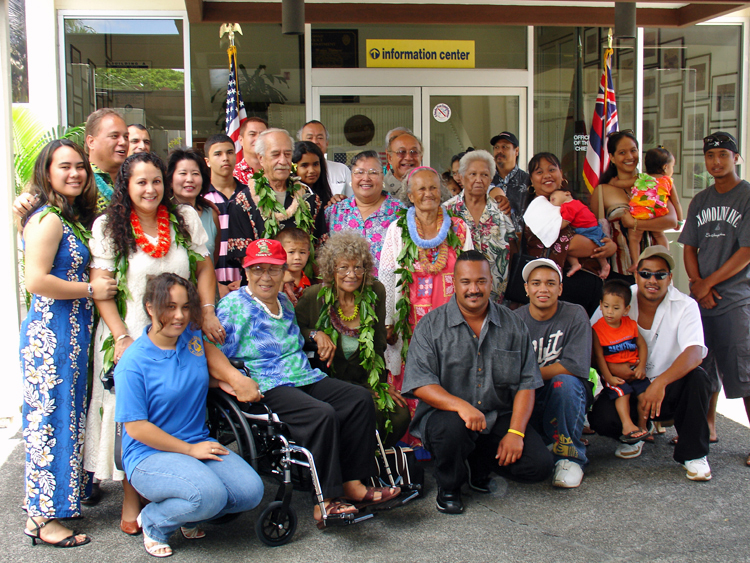 OILI FAMILY – Members of the family of William "Red" Oili gather on the courtyard of the Hilo Police Department Headquarters for a photograph. Oili, who died in the line of duty while trying to save two men from drowning in 1936, was one of four Big Island police officers who were honored in ceremonies that kicked off Police Week on the Big Island.
MEDIA RELEASE
The Hawaii County Police Department kicked off Police Week with a memorial ceremony Monday (May 16, 2005) honoring four Big Island officers who died in the line of duty.
The ceremony culminated in the lighting of four candles in memory of the officers.
The officers are Manuel Cadinha, who died in 1918; William "Red" Oili, in 1936; Ronald "Shige" Jitchaku, in 1990; and Kenneth Keliipio, in 1997.
Entertainment was provided by Ke Ola Pono and the Hilo High School Viking Band. The Hilo High School Army Junior ROTC presented the colors at the opening of the ceremony.
During the week, all district police stations on the Big Island will be open for conducted public tours. Anyone interested in scheduling a tour of a police station should call Officer Alan Kimura of the Community Relations Section at 961-2264.
Police Week has been celebrated since 1962, when President John F. Kennedy proclaimed May 15 of each year as Peace Officers' Memorial Day and the calendar week on which May 15 falls as Police Week.
Also, in 1994, Congress passed and President Bill Clinton signed Public Law 103-322, requiring that the American flag be lowered to half-mast on May 15 as a special tribute to more than 14,000 law enforcement officers who have died in the line of duty in the United States.
# # #

Print This Post