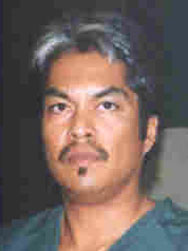 JOHN BONDAUG JR.
…fugitive sought by police
HAWAII COUNTY POLICE DEPARTMENT
AREA I FIELD OPERATIONS
MAJOR DAVID KAWAUCHI
PHONE: 961-2345
SEPTEMBER 23, 2000
MEDIA RELEASE
The Sheriff's Office in Honolulu is asking for the public's help in locating a parole violator who jumped bail and is believed to be on the Big Island.
The fugitive was identified as John J. Bondaug Jr., 39, a convicted murderer who is believed to be armed and dangerous.
Bondaug is described as being Filipino, being 5-feet-7 in height, weighing 180 pounds and having salt and pepper hair and brown eyes.
Bondaug, described as a violent career criminal, was released on parole on April 14, 1999. He violated the terms of his parole when he left Oahu sometime after that date and traveled to the Big Island. On September 14, 2000, Bondaug was arrested and charged with first-degree burglary, possession of a deadly weapon and criminal property damage in Kealakehe. He posted the $7,500 bail, but failed to appear for a September 21 court appearance.
Bondaug was born and raised in Puna and is believed to be in the area.
He was originally convicted of murder in a slaying that occurred in July 1980. During the incident, Bondaug and two other males lured a male victim into their car, then beat, stabbed and choked him to death. At his trial, Bondaug pleaded no contest to murder and was sentenced to 20 years in prison.
Big Island police are cautioning residents who recognize the fugitive not to try to apprehend him, but to call the police immediately at 935-3311.
Those who wish to remain anonymous may call Crime Stoppers at 961-8300 in Hilo or 329-8181 in Kona. The numbers are answered 24 hours a day. Callers will be given a coded number and their identity will remain anonymous. Callers may be eligible for a reward of up to $1,000 if their call leads to an arrest, indictment or the recovery or property. Crime Stoppers neither subscribes to "Caller ID," nor does it record phone calls.
# # #

Print This Post