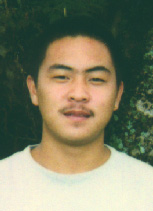 CONRAD NISHIHARA
…missing since April 29, 2000
HAWAII COUNTY POLICE DEPARTMEN
JUVENILE AID SECTION
LIEUTENANT LARRY R. WEBER
PHONE: 961-2254
JULY 28, 2000
G-27362/HL
MEDIA RELEASE
Big Island police are looking for a 18-year-old male who walked off from the Children's Comprehensive Service facility in Hilo on April 29, 2000, and never returned.
The escapee was identified as Conrad Nishihara, who was confined by court order to the facility.
Nishihara is described as being Japanese-Filipino, being 5-feet-4 in height with a medium build, weighting about 150 pounds and having a tax complexion, short black hair and brown eyes. He also has a thin mustache and a tattoo saying "Thug" on his left hand.
Anyone with information about Nishihara's whereabouts is asked to call Detective John Ancheta of the Juvenile Aid Section at 961-2276.
Those who wish to remain anonymous may call Crime Stoppers at 961-8300 in Hilo or 329-8181 in Kona. The identities of Crime Stoppers callers are kept strictly confidential.
# # #

Print This Post