HAWAII COUNTY POLICE DEPARTMENT
PUNA PATROL
LIEUTENANT JAMES KELLY
PHONE: 966-5835
MAY 20, 2002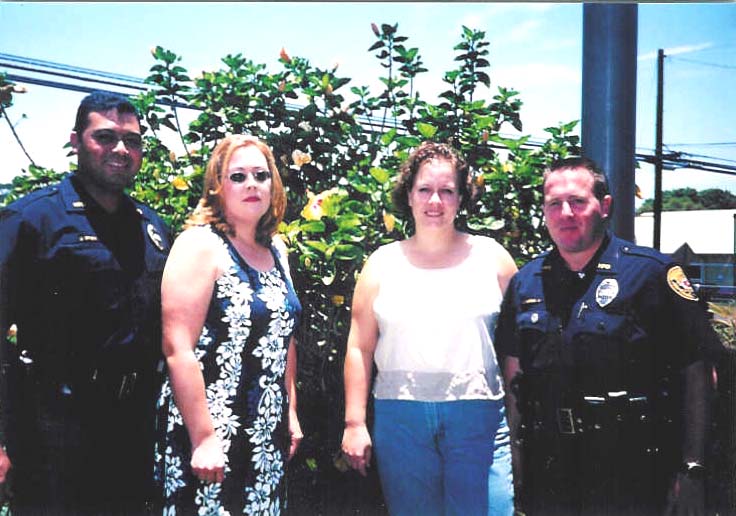 PUNA OFFICERS HONORED-Puna Patrol Officers John Briski, left, and John Weber have been honored as Puna's Officer of the Year and Traffic Officer of the Year, respectively. Standing next to the officers are their wives, Lori Briski, second from left, and Melissa Weber.
MEDIA RELEASE
Police officers and staff members of the Puna Patrol District celebrated Police Week (May 12-18, 2002) by honoring two officers for their outstanding work in the year 2001.
The officers were John Weber, honored as Officer of the Year, and John Briski, selected as Traffic Officer of the Year.
In a tradition that began five years ago, officers in the Puna Patrol District vote to select the Puna Patrol Officer of the Year, and the Puna Traffic Safety Council selects the Traffic Officer of the Year.
Both Weber and Briski joined the Police Department in February 1998. Both of them have served most of their careers in Puna, where both men make their homes.
The awards were presented Wednesday (May 15, 2002) at a luncheon held at the Keaau Police Station.
The wives and family members of both officers were present, along with other officers and staff members.
Guests included Marilyn Haymore, of the Puna Traffic Safety Council; Police Chaplain Duane Slocum; Hawaii County Police Commissioner Daniel C. Kama; and SHOPO Business Agent Gabriel K. Malani.
# # #

Print This Post