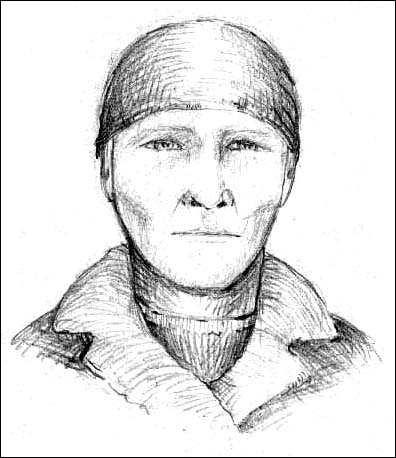 Composite Drawing of Suspect
HAWAII COUNTY POLICE DEPARTMENT
HILO CRIMINAL INVESTIGATION SECTION
DETECTIVE RANDAL M. ISHII
PHONE: 961-2385
FEBRUARY 26, 2000
G-21146
MEDIA RELEASE UPDATE
Big Island police have released a composite drawing of a suspect who is wanted in the robbery of the Kalani Honua Gift Shop Thursday afternoon (February 24, 2000) in Puna.
At about 2:10 p.m. Thursday, the suspect walked into the gift shop wielding a machete and demanded money from the cashier. The suspect then left on foot in an unknown direction with an undisclosed amount of cash.
The suspect is described as a Caucasian male about 6 feet in height, weighing about 150 pounds with a slim build and having brownish hair possibly closely shaven along the sides. He is described as being very pale in color.
The suspect was wearing a black parka jacket, a black T-shirt with a skull printed on the front with the word "MADNESS" in red print, black jeans, black tennis shoes and a blue bandana with white print. He was also carrying a black nylon backpack.
Anyone with information about the robbery or the suspect is asked to call Detective Randal Ishii at 961-2355 or the police emergency number at 935-3311.
Those who wish to remain anonymous may call Crime Stoppers at 961-8300 in Hilo or 329-8181 in Kona. The numbers are answered 24 hours a day. Callers will be given a coded number and their identity will remain anonymous. Callers may be eligible for a reward of up to $1,000 if their call leads to an arrest, indictment or the recovery of property. Crime Stoppers neither subscribes to "Caller ID," nor does it record phone calls.
# # #

Print This Post