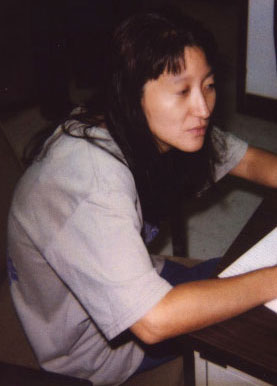 CHERYL ATALIG
…missing since July 29
HAWAII COUNTY POLICE DEPARTMENT
PUNA PATROL DISTRICT
OFFICER SONY A. VILLESCA
PHONE: 966-5835
SEPTEMBER 14, 2000
MEDIA RELEASE
Big Island police are seeking the public's help in locating a Puna woman who has been reported missing since July 29, 2000.
The woman was identified as Cheryl C. Atalig, 34, of a Hawaiian Beaches subdivision address.
The missing woman was described as being of Japanese descent, being 5-feet-2 in height, weighing 90 pounds with a slim build, having a fair complexion and having medium-length straight black hair. She was also described as having a stooped posture.
She was last seen at her residence wearing a white spaghetti strap shirt and black denim shorts.
Anyone with information about Atalig's whereabouts is asked to call Office Sony Villesca of the Puna Patrol at 966-5835.
Those who wish to remain anonymous may call Crime Stoppers at 961-8300 in Hilo or 329-8181 in Kona. The identities of callers to Crime Stoppers are kept strictly confidential.
# # #

Print This Post