HAWAII COUNTY POLICE DEPARTMENT
WEST HAWAII CRIMINAL INVESTIGATION DIVISION
CAPTAIN ROBERT HICKOX
PHONE: 326-4646, EXT. 263
APRIL 29, 2005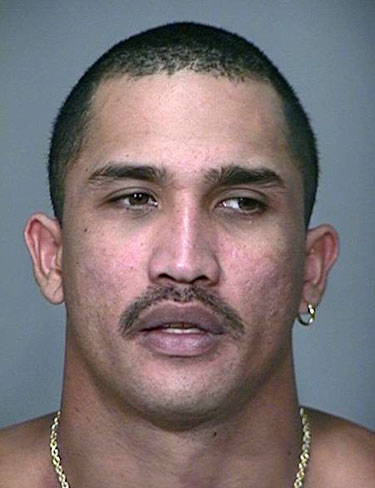 MEDIA RELEASE UPDATE
West Hawaii Criminal Investigation Section detectives charged a 30-year-old male suspect Friday (April 29, 2005) with numerous counts of car theft and other offenses.
At 8:50 p.m., Kyle Keoni Quilausing was charged with 14 counts of unauthorized control of a propelled vehicle and one count of theft. He was also arrested on five bench warrants — three warrants for contempt of court and two no-bail warrants for revocation of probation.
Quilausing is being held in the Kona police cellblock without bail for the revocation of probation warrants, $30,000 bail for the theft charges and $1,100 bail for the contempt warrants.
During the investigation, West Hawaii CIS detectives learned that all the vehicles stolen had been left unlocked with the keys left in the vehicle.
Kona detectives and South Kohala patrol officers arrested Quilausing on Thursday morning after a pursuit through lava field off Waikoloa Road.
Acting on a tip, South Kohala patrol officers spotted Quilausing with several other suspects in a vehicle on Waikoloa Road. Seeing the police, the driver tried to elude police and in doing so blew a tire. Quilausing then tried to escape by running into a lava field, where he was apprehended. Three other suspects escaped after they were picked up by a passing vehicle.
West Hawaii CIS detectives are continuing their investigation into other cases where Quilausing is suspected of other criminal offenses.
Meanwhile, on Thursday, East Hawaii Criminal Investigation Section detectives arrested and charged Quilausing's girlfriend, Lyssa Sakamoto, with hindering prosecution.
Sakamoto was arrested for allegedly transporting Quilausing to Waimea in a rental car and renting a hotel room in Waimea for him. She is being held in the Hilo police cellblock in lieu of $1,000 bail.
# # #

Print This Post