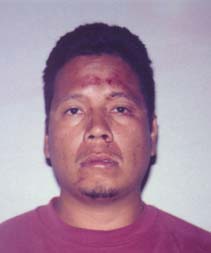 PEDRO DAGDAG
…held without bail
HAWAII COUNTY POLICE DEPARTMENT
KONA CRIMINAL INVESTIGATION SECTION
LIEUTENANT HENRY W. HICKMAN
PHONE: 326-4203
MAY 11, 2000
G-28254
MEDIA RELEASE UPDATE
Police have charged a 29-year-old Kealakekua man with a variety of felony offenses after he allegedly tried to kill four other men with a rifle during an argument Tuesday night (May 9, 2000) at a Kailua-Kona bar.
The suspect, identified as Pedro Dagdag III, was charged at 5 p.m. Thursday with one count of first-degree attempted murder, five counts of attempted second-degree attempted murder, one count of being a felon in possession of a firearm and one count of use of a firearm in commission of a felony. All are felony offenses.
Dagdag is being held in the Kona police cellblock without bail.
Police received a 10:16 p.m. call Tuesday that several men were involved in a fight at the Other Side Bar in the old industrial area of Kailua-Kona. As officers were en route to investigate, police received another call that shots had been fired.
The suspects involved in the fight had left the scene by the time the first officers arrived.
Other responding officers, however, saw a vehicle speeding as it was being chased north on Queen Kaahumanu Highway. The officers chased the vehicle up the highway, then east on Hinalani Street, south on Mamalahoa Highway, down Palani Road, then down Henry Street and south on Queen Kaahumanu again until they got to the Keauhou mauka area, where they lost site of the vehicle.
About 15 minutes later, Dagdag returned to Other Side Bar, where investigating officers arrested him.
Police determined that an argument had started inside the bar and spilled outside. Dagdag got into a car driven by a second suspect who tried to run down the victims with the vehicle. Dagdag then shot at the four victims, all males, numerous times as the vehicle made separate passes at them. Several of the men then chased Dagdag in another vehicle and were shot at again during the pursuit.
There were no injuries reported in the incident, but the pursuers' vehicle and a boat were damaged by bullets.
The driver of the vehicle in which Dagdag was a passenger is known to police and is being sought in the case. Kona Criminal Investigation Section detectives are continuing the investigation.
# # #

Print This Post