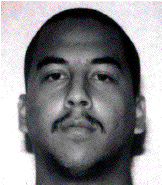 SUSPECTS CHARGED IN ROBBERY-Jacob Lareau, 21, left and Isaac Caraballo, 29, have been charged in the robbery of a pizza deliveryman at the Hilo Civil Auditorium.
HAWAII COUNTY POLICE DEPARTMENT
HILO CRIMINAL INVESTIGATION SECTION
DETECTIVE RANDAL M. ISHII
PHONE: 961-2385
JUNE 30, 2000
F-60682/HL
ROBBERY
MEDIA RELEASE
Hilo Criminal Investigation Section detectives have arrested and charged two male suspects who allegedly robbed a pizza deliveryman on May 10, 1998.
Jacob Lareau, 21, of Hawaiian Beaches, Puna, was charged on June 13, 20000, with first-degree robbery and use of a firearm in commission of a felony.
Isaac Caraballo, 19, of Hilo, was charged on June 22, 2000, with being an accomplice to robbery.
Lareau's bail was set at $20,000 and Caraballo's at $100,000. Caraballo was on supervised release for another, unrelated robbery.
Detectives learned that the pizza deliveryman was delivering pizzas to the Hilo Civic Auditorium when he was approached by two local males, one of whom pointed a sawed-off shotgun at him and demanded money and the pizzas.
# # #

Print This Post