HAWAII COUNTY POLICE DEPARTMENT
OFFICE OF THE POLICE CHIEF
PHONE: 961-2244
SEPTEMBER 16, 2004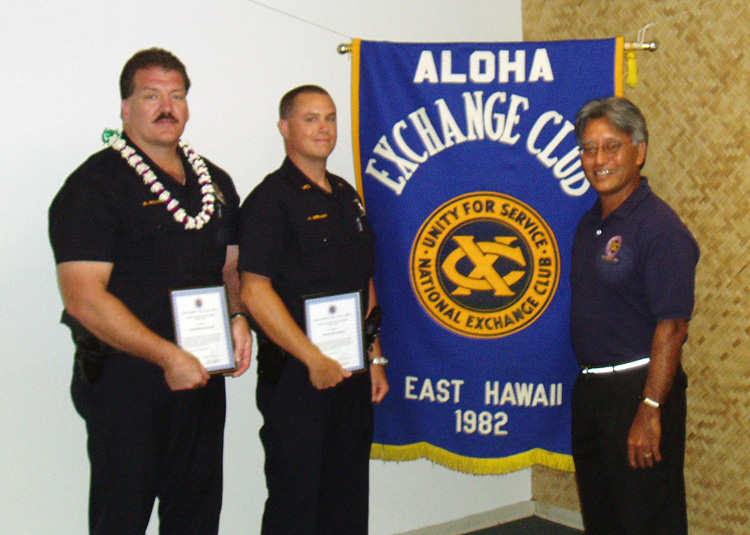 OFFICERS OF THE MONTH – Police officers Michael Molnar, left, and Kimo Siemann were awarded the Officer of the Month award for July by the Aloha Exchange Club. Andrew Iwashita, right, club president, presented the awards to the two officers during a luncheon meeting.
MEDIA RELEASE
Police officers Michael Molnar and Kimo Siemann were honored as Officers of the Month for July 2004 by the Aloha Exchange Club of East Hawaii.
The officers received the awards from club president Andrew Iwashita during a luncheon meeting Thursday (September 16, 2004) in the Leilani Room of Uncle Billy's Hilo Bay Hotel.
Nominated by their supervisor at the time, Sergeant Darrell Huston, the officers were recognized for capturing two fugitives in Puna.
The first fugitive, Blaine Farris, 41, had escaped from the Hilo Community Correctional Center at Hale Nani. He was arrested after leading police in a vehicle chase that eventually ended in a foot pursuit at an abandoned house in the Fern Forest subdivision of Glenwood, Puna.
The second fugitive, Clifford Sakamoto, 52, who routinely eluded police by running into the forest at the rear of his Volcano residence, was also apprehended after a foot pursuit at his residence.
At the time, Officer Molnar was undergoing field training after having graduated from the 63rd Recruit Class in May 2004. Officer Siemann is a Puna patrol officer who at the time was assigned primary responsibility for the field training of Officer Molnar. Officer Molnar is now a patrol officer assigned to the South Kohala District.
The Police Officer of the Month is one of the community service programs sponsored by the Aloha Exchange Club of East Hawaii, a non-profit community service organization.
# # #

Print This Post