Hawai'i Police Department
Office of the Chief
Harry S. Kubojiri
Phone: 961-2244
September 30, 2010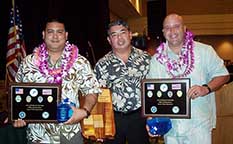 Officers Jared Cabatu, left, and Erich Jackson pose with Deputy Chief Paul Ferreira.

Media Release
The Hawai'i State Law Enforcement Officials Association has named Officers Jared Cabatu and Erich Jackson as the Hawai'i Police Department's Officers of the Year for 2010.
The officers were honored for talking down a juvenile male who was threatening to hang himself from a church rooftop. Both officers climbed a ladder onto the roof and established a rapport with the boy, eventually persuading him to untie a rope from around his neck that he had attached to a beam.
Lieutenant Nancy Haitsuka, who nominated the officers for the honor, said Cabatu and Jackson showed "remarkable teamwork" when saving the boy from a dangerous situation. "They showed remarkable bravery in climbing up to the rooftop to contact the boy and ultimately save his life, while placing their own lives in jeopardy," Haitsuka said. "They showed a remarkable willingness and desire to take that extra step that says a lot about their professional character."
The HSLEOA award was presented September 24, at the Kauai Marriott Resort.
---