HAWAII POLICE DEPARTMENT
JUVENILE AID SECTION
LIEUTENANT EARL HATADA
PHONE: 961-2254
JANUARY 24, 2007
REPORT NO. C06039760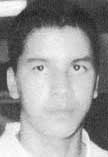 MEDIA RELEASE
Big Island police are looking for a 15-year-old boy reported missing from his Hilo home since December 19, 2006.
His name is Dryson Bento. He is described as Filipino, 5-foot-8, about 130 pounds with black hair and brown eyes.
Police ask anyone with information on his whereabouts to call Officer B J Duarte of the Hilo Juvenile Aid Section at 961-2372 or the Police Department's non-emergency telephone number at 935-3311.
Tipsters who prefer to remain anonymous may call Crime Stoppers at 961-8300 in Hilo or 329-8181 in Kona. All Crime Stoppers information is kept confidential.
# # #