HAWAII COUNTY POLICE DEPARTMENT
HILO JUVENILE AID SECTION
LIEUTENANT LARRY WEBER
PHONE: 961-2254
JUNE 18, 2001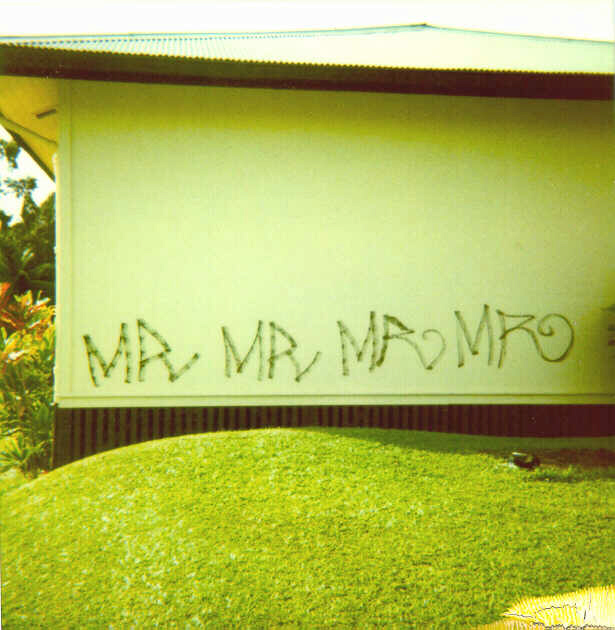 RECENT GRAFFITI
…an example of recent graffiti at Kalanianaole School
MEDIA RELEASE
Big Island police are requesting the public's assistance in solving a recent rash of graffiti property damage in and around the Hilo area. Graffiti taggers have caused damage to both private and public property extending from North Hilo to the Puna areas. Most notable in recent weeks is the "MR" tag left in many areas.
With summer vacation in effect, Hilo Juvenile Aid Section officers are urging parents to be aware of their children's whereabouts and activities. They are also urged to be alert for the following signs of possible graffiti involvement:
Graffiti on papers, books, walls, clothing, or other objects.

Unusual amounts of spray paint cans or marker pens.

Photographs of graffiti.

Accessories such as backpacks with a strong odor of paint, containers with an assortment of spray paint tips, etc.
Police are also asking that the public report any suspicious activity they observe. Victims of graffiti property damage should report the damage to police for documentation and then have the graffiti removed as soon as possible. Removal of the graffiti removes the "glory" the taggers' desire.
Anyone with information about those responsible for graffiti property damage may call Detective John Ancheta or Officer Peter Kualii, Gang Detail of the Hilo Juvenile Aid Section, at 961-2276 or 961-2373.
Those who wish to remain anonymous may call Crime Stoppers at 961-8300 in Hilo or 329-8181 in Kona. Crime Stoppers keeps the identity of callers strictly confidential.
# # #