HAWAII COUNTY POLICE DEPARTMENT
PUNA PATROL DISTRICT
SERGEANT SAMUEL JELSMA
PHONE: 966-5835
MAY 20, 2004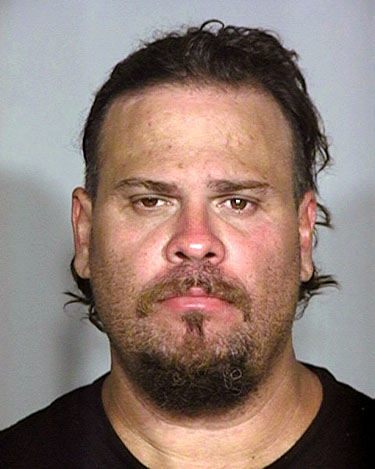 MEDIA RELEASE UPDATE
After a seven-mile vehicle and foot pursuit Thursday (May 20, 2004), Puna patrol officers captured an escapee from the Hale Nani Correctional Facility.
The escapee, identified as Blaine K. "Tiger" Faris, 41, was apprehended at 10:44 a.m. Faris was charged with escape, resisting an order to stop, reckless driving, four counts of reckless endangering and other traffic violations stemming from the pursuit. He was taken to the Hawaii Community Correctional Center, where he was being held in lieu of $5,100 bail resulting from the escape charge and offenses committed during the pursuit.
Faris had been sought since he escaped from the Hale Nani minimum security facility in Hilo on April 29, 2004.
While on routine patrol Thursday, Puna patrol officers traveling south on the Hawaii Belt Road (Route 11) spotted Faris driving an older model Toyota and waiting to pull out of the Mountain View Minimart. Officers turned around and tried to stop Faris' car, which immediately tried to evade officers. Faris turned into the Mountain View Gym road, circled around through Ueyama Camp and pulled back onto the Hawaii Belt Road. The suspect then headed north, turning off onto South Kulani Road and then traveling back into the Fern Acres subdivision. The pursuit ended when Faris pulled up to a vacant house near Road G/Road 1 and fled on foot into the residence. Officers were able to apprehend the suspect without further incident.
Inside Faris' car, officers discovered several passengers who told police they had been hitchhiking and gotten a ride from Faris. The passengers were a 36-year-old male, a 35-year-old female and two young children.
Faris has a history of running from the police while out on parole.
In August 2003, just after midnight, he led an officer in a car chase through Hawaiian Paradise Park, which ended when he ran his vehicle into an embankment and then fled on foot. The pursuing officer then proceeded to chase Faris, catching him as he tried to run through brush behind a house. The suspect was arrested for resisting an order to stop a motor vehicle and seven other traffic offenses.
A month later, Faris was again driving a vehicle on Banyan Drive in Hilo when officers stopped him and he fled on foot. After being caught by officers, Faris had his parole revoked and was serving his sentence when he walked away from the Hale Nani facility.
Faris had previously served prison time in the killing of police officer Ronald "Shige" Jitchaku in 1990 during a large brawl on Banyan Drive.
# # #

Print This Post