HAWAII COUNTY POLICE DEPARTMENT
TRAFFIC SERVICES SECTION
SERGEANT RANDY K. APELE
PHONE: 961-2305
MAY 21, 2004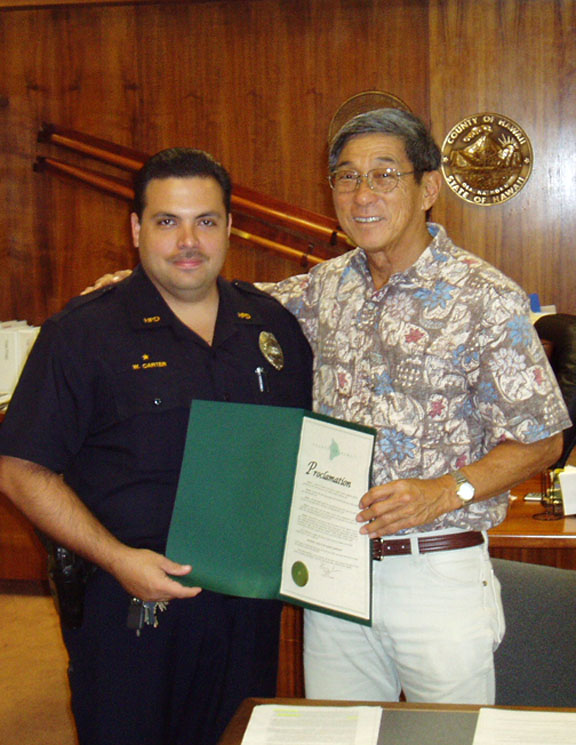 CLICK IT OR TICKET – Mayor Harry Kim presents a proclamation declaring May 24-June 6 as "National Click It or Ticket Campaign" in Hawaii County to Officer Wendall Carter of the Traffic Enforcement Unit.
MEDIA RELEASE
Mayor Harry Kim has declared May 24-June 6, 2004, as "National Click It or Ticket Campaign" on the Big Island to encourage the use of seat belts.
The mayor signed the proclamation Friday (May 21, 2004) in his office and presented it to Officer Wendall Carter of the Traffic Enforcement Unit.
The proclamation notes that 35 people died on Hawaii County roads last year, saying about "approximately half would still be alive if they had worn their seat belts."
The proclamation further encourages all drivers to "make sure that everyone in their car is buckled up every time they drive."
The police departments of Hawaii's four counties have joined more than 13,000 law enforcement agencies nationwide to get out the message of "Click It or Ticket," a national campaign aimed at encouraging people, especially young people, to buckle up for safety.
The federally funded "Click It or Ticket Mobilization" targets the most at-risk drivers — teens and young adults.
"One of the greatest fears for any parent is the day when their child becomes a teenager and wants to drive the family car," said Sergeant Randy Apele, head of the Traffic Services Section.
"While they may be old enough to obtain a license, that hardly means they are ready for the responsibilities of the road. Caught in a lethal intersection of inexperience and risk-taking, teens are killed at alarming rates in crashes they could have survived had they been wearing a seat belt.
"So how do you get teens to buckle up when they think tragedy won't happen to them? You threaten them with a ticket and then back it up with strong enforcement of seat belt laws."
Apele said that's exactly what Big Island police will be doing during the two-week national mobilization.
"We'll be surrounding them with the message, "Click It or Ticket: If you won't buckle up to save your life, then buckle up to save yourself a ticket," Apele said.
During the campaign, Big Island police will intensify efforts to enforce safety belt laws and child passenger safety laws by increasing checkpoints and other measures, Apele said. Drivers failing to restrain themselves and their passengers will be ticketed, he said.
He noted: "When it comes to seat belts, years of research and, unfortunately, many thousands of lives lost show us that America's young people won't respond to threats of injury or death, but they do respond to the threat of a ticket."
According to the National Highway Traffic Safety Administration, nationwide, 4,530 persons 16 to 19 years of age were killed in traffic crashes during 2002. "Many of them could have survived if only they had buckled up," the agency said.
# # #

Print This Post